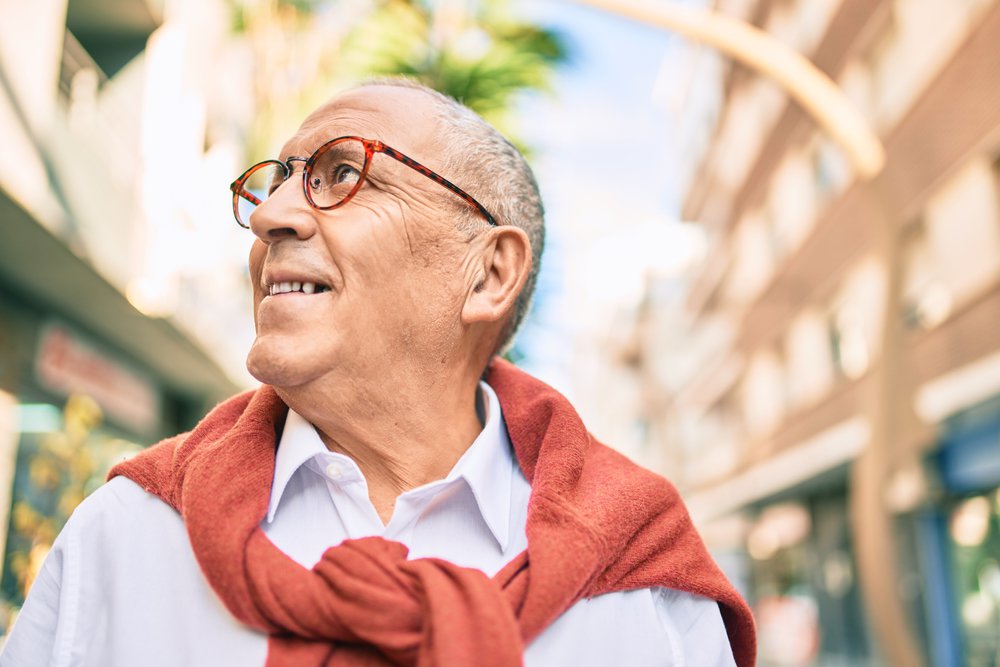 As we age, we have to be extra vigilant about our health. The things we used to get away with in our youth have changed, and we have to be more careful now than ever. This June marks Men's Health Month, a time to spread awareness of men's health issues and encourage men of all ages to make healthy choices. That's why we've compiled a list of 10 tips for the aging man in your life to stay happy and healthy this month – and every month after that.
1. Get Regular Checkups

As men get older, they are at increased risk for a variety of health conditions, such as heart disease, cancer, and stroke. That's why it's important to see a doctor regularly and to get recommended screenings for these conditions. A primary care doctor can monitor your health and make recommendations for healthy lifestyle choices. If your elderly loved one has trouble making it to his appointments, a home companion can assist in transporting him to his primary doctor.

2. Eat a Healthy Diet

A healthy diet is important for everyone, but it's especially important as we age. Eating plenty of fruits and vegetables, whole grains, and lean proteins can help reduce the risk of developing health problems down the road. Avoiding store-bought, processed foods and opting for whole, fresh foods can make all the difference in a balanced diet. If your senior cannot cook for themselves, a home health aide can prepare healthy, home-cooked meals for them.

3. Stay Physically Active

Regular physical activity is essential to your health at any age. It can help prevent heart disease, stroke, cancer, and other chronic conditions. It can also improve mental health, increase energy levels, and help you maintain a healthy weight. There are plenty of things seniors can do to stay active, and it doesn't have to be at an intense level. They can try going on walks in the park with family or joining a yoga class for seniors.

4. Quit smoking

If you smoke, quitting is one of the best things you can do for your health. Smoking increases your risk of developing several serious health problems, including heart disease, stroke, and cancer. Ask your doctor about sustainable strategies to help you quit smoking.

5. Limit Alcohol Consumption

Drinking too much alcohol can lead to many health problems, including liver damage, high blood pressure, and cancer. If you drink alcohol, it's important to do so in moderation. The National Institute on Alcohol Abuse and Alcoholism recommends that men limit their intake to two drinks or less per day.

6. Get Enough Sleep

Sleep is important for overall health, and it becomes even more important as we age. Getting enough sleep can help improve mental health, physical health, and quality of life. Most healthy older adults aged 65 or older need seven to eight hours of sleep each night to feel rested and alert.

7. Manage Stress

Stress can take a toll on your physical and mental health. Learning how to manage stress can help you stay healthy and happy as you age. Make sure you incorporate time for self-care into your daily routine. Whether it is spending time with grandchildren or reading your favorite book, doing something you enjoy from time to time can help you to decompress.

8. Take Steps to Prevent Falls

As we age, we become more susceptible to falls. Taking steps to prevent falls, such as removing tripping hazards from your home and wearing sensible shoes, can help you stay safe and injury-free. This will likely be something you can take care of for the aging man in your life. If you notice any unsafe conditions in their home, be sure to remove them and make the space as safe as possible.

9. Drink Plenty of Water

This is especially important as we get older. Drinking plenty of water helps to keep our bodies hydrated and can help prevent dehydration, which can lead to some serious health problems. The recommended amount of water for older adults to consume is at least 57.5 fluid ounces per day, which corresponds to at least 7.1 cups a day. Keeping a journal or a reusable water bottle with measurements on it can help you to monitor your water intake.

10. Don't Be Afraid to Ask for Help

If you have any concerns about your health, don't hesitate to see your doctor. Early detection and treatment of health problems can often improve the prognosis and quality of life. This also goes for any struggles an elderly loved one might face at home. If you notice your aging family member is struggling to care for themselves, encourage them to accept help. There are many services available that can bring care to the comfort of their own home.
Making healthy choices now can help you enjoy a better quality of life as you age. So take care of yourself and your aging loved ones this Men's Health Month. If you are unable to care for your aging loved one, don't take it on by yourself. Gallagher Home Care is dedicated to bringing compassionate care directly to seniors in the comfort of their own homes.
Gallagher Home Care is a Medicare-certified home health agency that serves across 8 Pennsylvania counties. Our employees are dedicated to providing exceptional, compassionate care to seniors while allowing them to keep their independence. We provide respite care, companion care, housekeeping, home safety monitoring, and even provide free in-home evaluations for new families. Request an appointment online or call (412) 453-8082 to learn more.